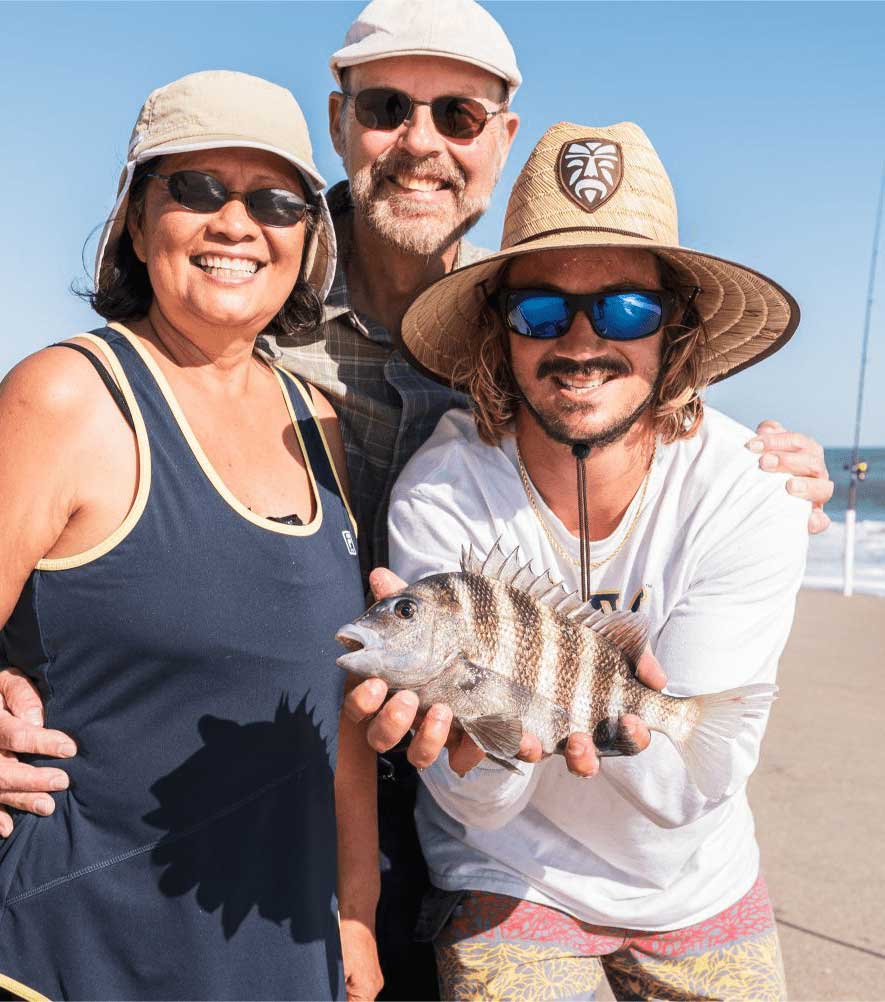 Florida beach fishing report along the Central East Coast has been touch and go this past week. While the rainy weather snubbed out a lot of days, when chance has presented itself, rewarding opportunities have been found. Rain and easterly wind created murky water for surf fishing from Cocoa Beach to the Sebastian Inlet, however, anglers have been doing well catching fish that don't rely on optimal water clarity.
Beach fishing charters and individual anglers are catching sheepshead, margate, whiting and snook. The beauty of fishing from the shore is that you never know what's going to grab hold and bend your rod. Be ready for anything and have a mixed bag of bait and presentations. The majority of "dead stick" fishermen with rods in pole holders have been consistently catching margate and sheepshead on the rocky beaches of Central Brevard County. Bait of choice are fiddler crabs, fish bites, sand fleas and peeled shrimp. Dedicate time to observe the structure off the beach before casting surf fishing equipment. The majority of concentrated catches will come from areas where large rock ledges drop off on the west side of the shelf. Casting accuracy plays a vital role in your rate of success for catching or snagging rocks and losing surf fishing rigs. Properly positioned pompano rigs with extra small hooks combined with the bait mentioned above will increase your probability of snagging one of these sought after species.
Snook fishing in Florida this time of year heats up at a feverish pace. If you've always wanted to land a beast snook in the surf, now is the time to gear up. Surf fishermen are reporting catches from the north end of the county near Cocoa Beach south to the Sebastian Inlet. While fishing near Melbourne Beach provided some hot snook reports, catching a snook this time of year will depend on how much time you dedicate, as well as the snook fishing rigs you utilize.
Highly successful anglers are employing snook fishing rigs that combine live bait with mobility. This approach allows you to present a live croaker, mullet or pin fish naturally while covering larger areas of shoreline. Recommended surf fishing equipment and snook fishing rigs for this task would be to combine a 7.5 – 8' medium to medium heavy action rod, 4000-6000 thousand series reel, 20-40 pound braided line tied to a 2-3 foot, 30-50 pound fluorocarbon leader, followed with a 2/0-5/0 live bait hook or circle hook depending on bait size. Use this snook rig to walk up and down the beach deploying your live bait into the first few yards of the shoreline. Focus on fishing the trough and current run-outs for maximum effectiveness. These ambush predators use these areas to lay and wait for opportunity. Fishing Florida beaches with this snook fishing tackle will allow you the possibility of hooking a trophy fish. Good luck!