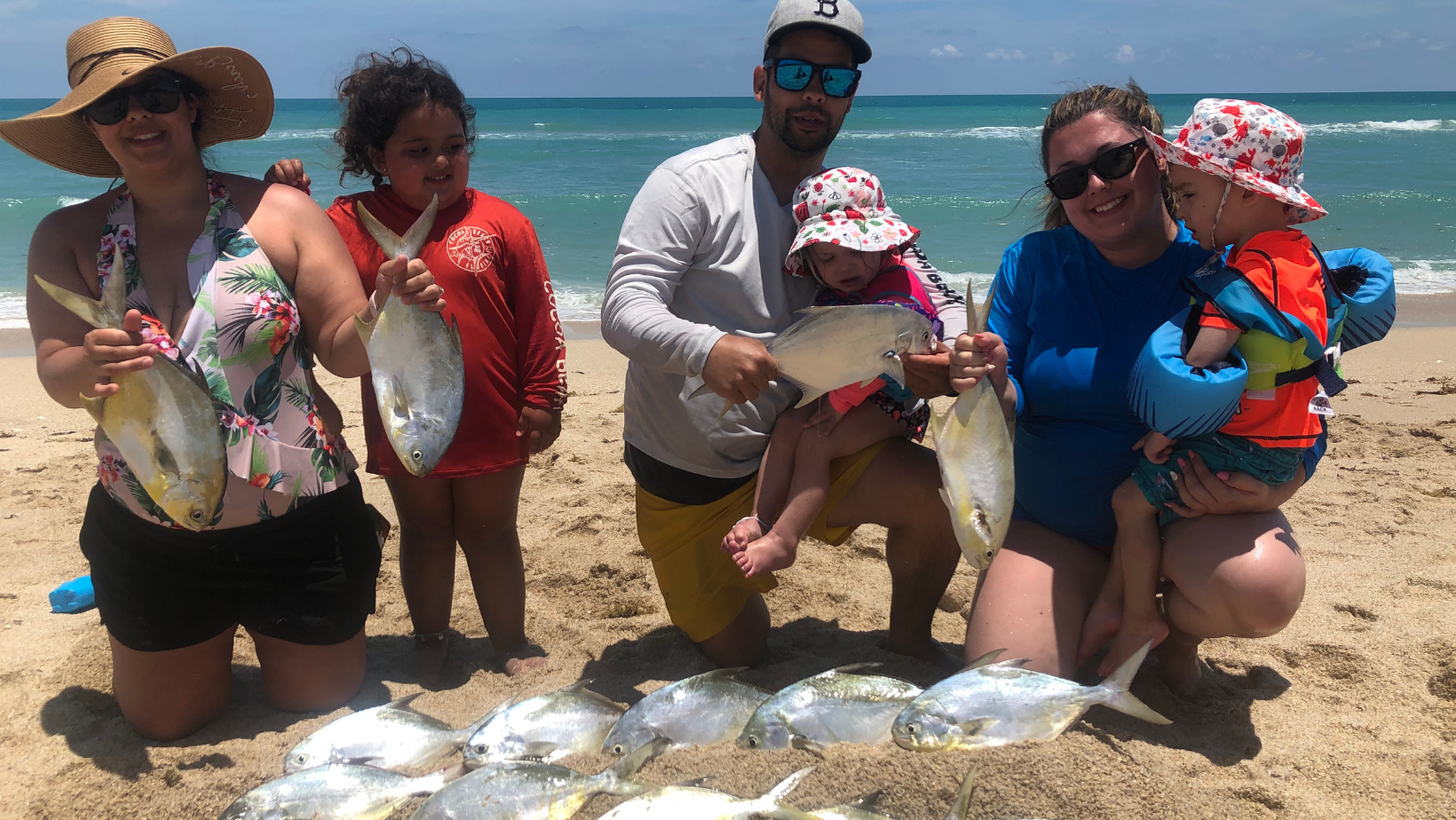 Book easily online or call 321-205-4672 if you have any questions.



Cocoa Beach Surf Fishing Charters is Florida's premiere surf, shore and beach fishing experience on the Space Coast.
Whether it's hooking into a trophy catch relaxing with your toes in the sand we offer it all. Allow our highly skilled expert guides to act as your ambassador to the surf and shore fishing Florida beaches have to offer. Cocoa Beach Surf Fishing Charters offers an exclusive and entirely customizable experience that can't be found anywhere else. We take the why nots and turn then into why you should.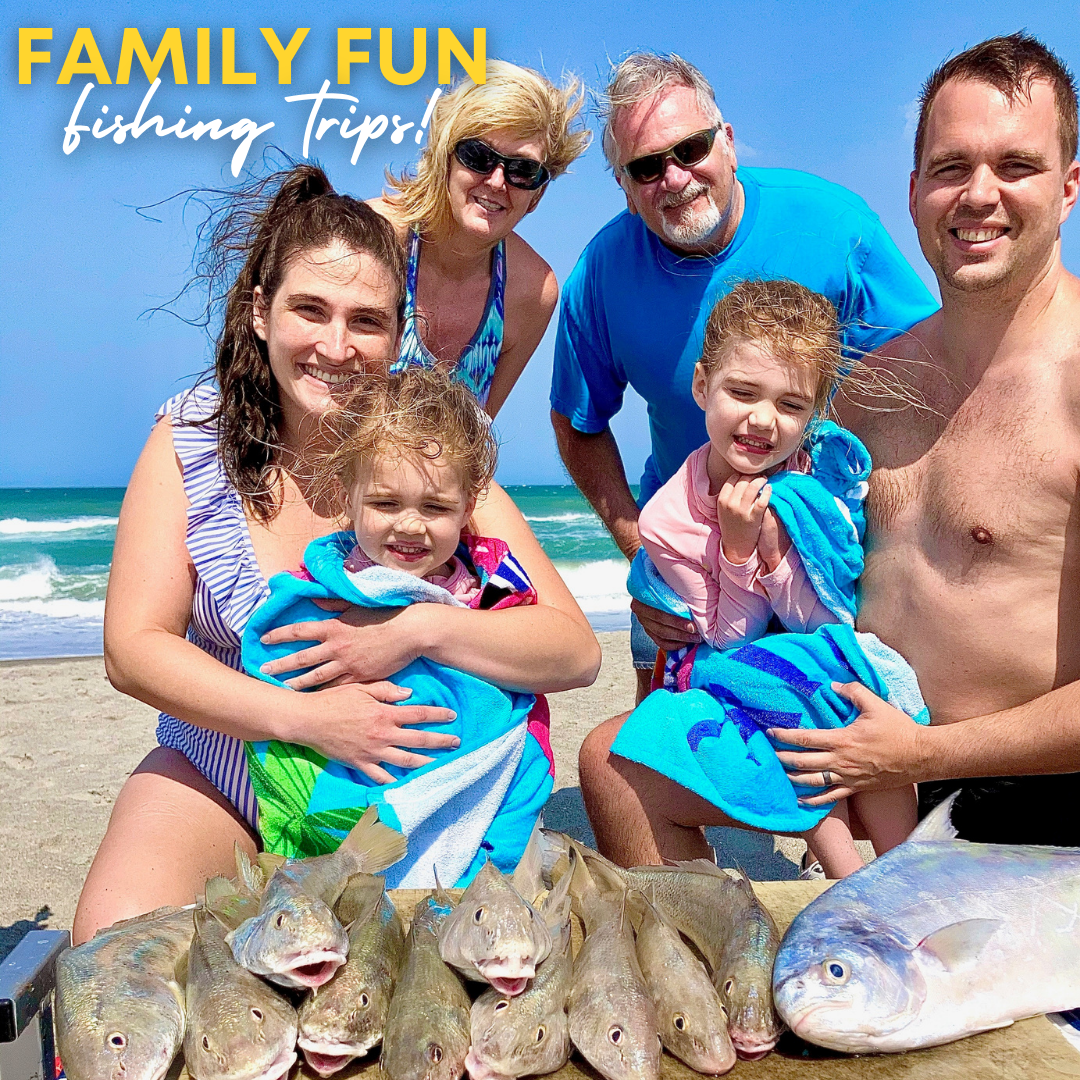 Surf Fishing
Whether it's just you, or you're with your family looking for a fun day at the beach, there's fun to be had by all. Providing all the equipment you'll need for a great day of fishing with beach chairs included. Each trip is customizable to your specific needs including location, time, and number of participants.
BOOK NOW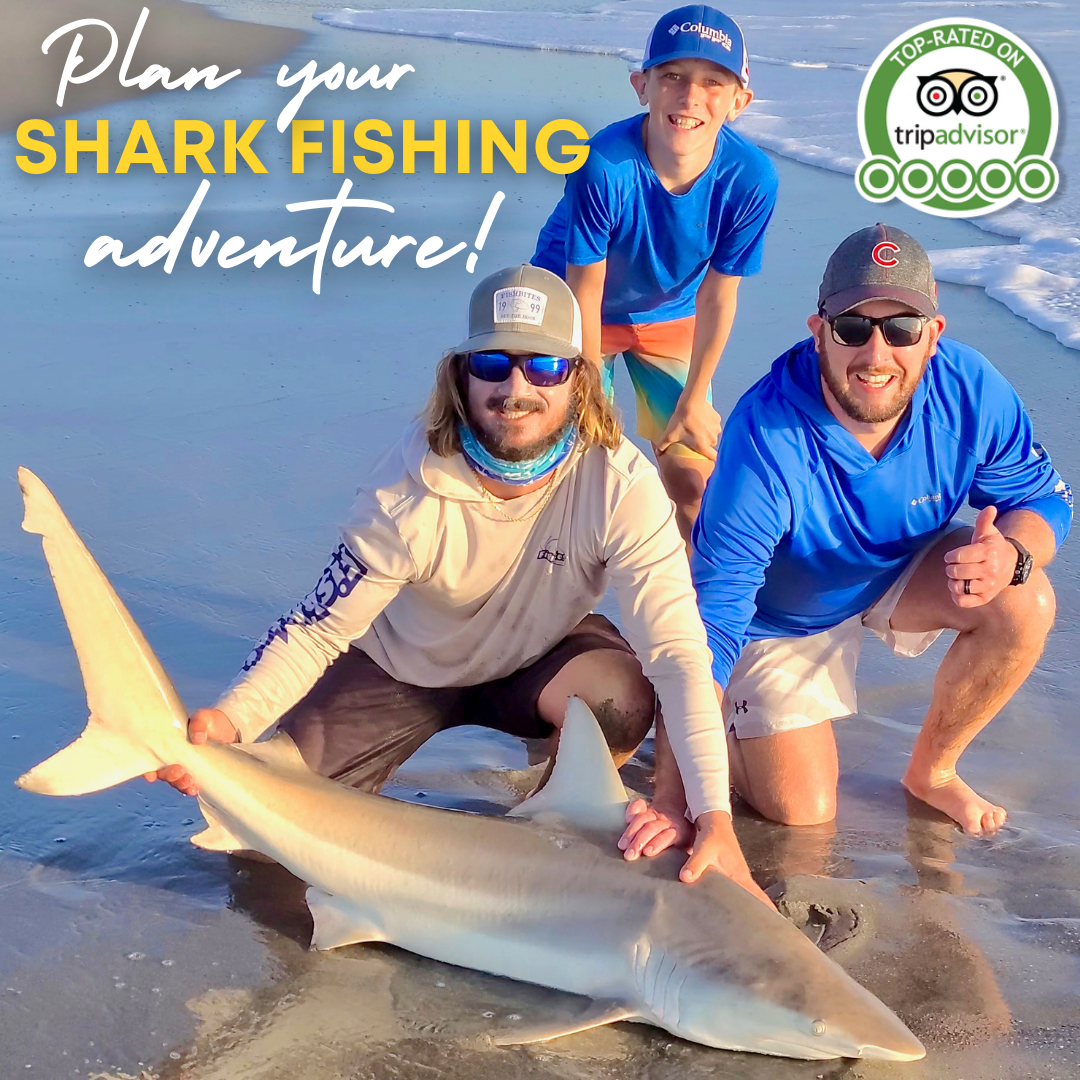 Shark Fishing
Our action packed shark fishing charter is a combination trip targeting a variety of sharks and additional fish species with extra equipment and baits. Each trip is customizable to your specific needs including location, time, and number of participants.
BOOK NOW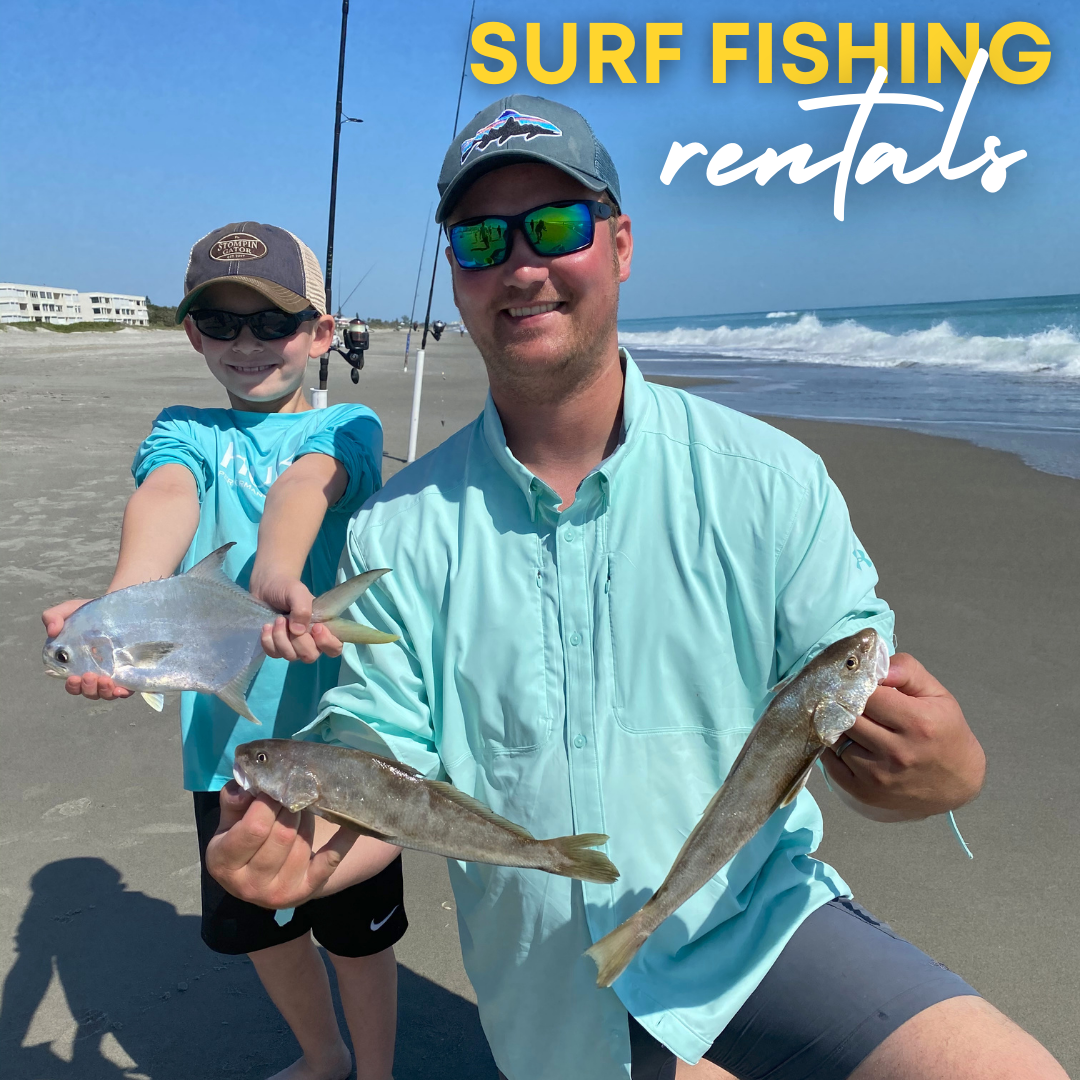 Rentals
We provide everything you need to have a fun day surf fishing: equipment, tackle, weights, bait, bucket, beach chairs, cooler and more! The rental service also includes comprehensive how-to surf fishing lessons along with equipment drop off and pick up. Follow the link below to view surf fishing equipment rental rates.

LEARN MORE
All equipment is included!
Providing all the equipment you'll need for a great day of fishing with beach chairs included. We also provide a cooler with ice and water where we leave room for your beverages and snacks.
No experience needed!
This is the ultimate in Florida surf fishing and beach immersion experience. All ages welcome to participate as we cater to each individuals skill level independently.
All you have to do is relax.
A hands free, turn-key, and on demand fishing charter excursion that takes away beach set-up headaches and provides an all inclusive alternative to enjoying surf fishing and all the activities of the Florida beaches in a fun and relaxed setting.
We make it easy!
At the end of the fishing charter excursion have a sigh of relief knowing there's no equipment you need to drag up the beach and pack up, we do it all for you!
Lucas IS AWESOME, 20+ Pompano, plus others. I learned so much in the short time together. HIGHLY RECOMMEND HIM!!!!

timothymA6524KS


February 4, 2023

My dad and I were first time surf fisherman, Lukas was great at teaching us the mechanics of how to fish the surf. We had a great day, caught... read more about every species out there including a 5' shark. I highly recommend.

Kocia003


January 21, 2023

We had such a great time fishing with Lukas. He is knowledgeable and worked hard to help us all catch fish. It was one of the best fishing guides we... read more have ever had. The whole family had a blast!

senellj


January 19, 2023
We were recently recognized as a 2021 Travelers' Choice award winner by
Tripadvisor
! This achievement celebrates businesses that consistently deliver fantastic experiences to travelers around the globe, having earned great traveler reviews on Tripadvisor over the last 12 months.
READ ALL REVIEWS
A Once in a lifetime experience!
If you're looking for a once in a lifetime experience that includes everybody in the family then look no further. Cocoa Beach Surf Fishing Charters offers the most comprehensive exclusive surf fishing package in Florida. This experience leaves nobody behind and is a multigenerational accessible for the entire family. Whether the kids want to build sand castles or reel in fish or learn about the ecosystem our guides can tailor it to each member of the party. If mom or grandma wants to sit under the tent reading their favorite book we invite that also. Or if a group of go getters wants to target species and fish at a professional level we have the skill and equipment for that too. Our goal is to provide an all inclusive experience and fishing / beach immersion experience that will leave you, your friends and family with stories to tell and priceless moments shared. Laughter abundant , comfort provided, restrooms on sight, wheelchair accessible ramps to beach access, no rocking around on a rough boat ride with fuel fumes billowing down your sinuses. A complete fishing program that highlights a true locals fishing experience so come and live like a local for a day and enjoy the professionalism and our company exemplifies with highlighting our unique resources here on the pristine Florida beaches.
Why go surf fishing?
Because there's something for everybody. Rich resource and fishery, accessibility, learn about the ocean environment and ecosystem and we take the why nots of charter fishing and bring an enriching experience to each member of your family.
[nectar_slider location="About" flexible_slider_height="true" full_width="true" arrow_navigation="true" overall_style="classic" desktop_swipe="true" bg_animation="none" slider_transition="slide" caption_transition="fade_in_from_bottom" image_loading="lazy-load" heading_tag="default" button_sizing="regular" slider_height="650″ min_slider_height="550″ autorotate="3000″]
No Seasickness!
Avoid the motion in the ocean while staying stationary and comfortable on the pristine beaches of Florida coastline. This is always a major hurdle that goes into the planning process for families and their ambition of going charter fishing in Cocoa Beach or Florida. With the surf fishing excursion we relinquish the fear of queasy stomachs and sick family member. Leave those concerns behind as you feel comfortable bringing everybody along for this action packed Florida fishing and family fun package.
Multi-Generational
With our completely comprehensive approach to Florida surf fishing packaged experiences we bring tools to the table for each member of the family. Whats more special than being able to include grandparents or less mobile family members and making them feel welcomed to join in on the fun. Our expertly skilled guides have the equipment and knowledge to have hesitant family member fishing from the edge of their seats requiring no intensive physical exertion to be able to play an active role in the days activities.
No Mobility or Capability Issues
Each of our products offers fully customizable options to wheelchair accessible ramps to the beach or having our services brought to your beachfront hotel or vacation rental home. We aim to meet and exceed your families concerns and show you why we can impress everybody with this unique and all inclusive beach surf fishing package.
No Maximum # of Participants
Visiting Florida as a larger family gathering for a reunion or wedding and are looking for an excursion that can include large parties of 6 or more. Look no further because with our fully customizable private surf fishing excursion package there is no limitations on the size of your group and how many participants want to play a part in the immersion experience of whats included with a day of surf fishing on our pristine Florida beaches.
Access to Restrooms
For all those concerned with heading various life situations that may arise. Having access to restrooms during a fishing expedition is a huge advantage to the other options provided from boats resources. Feel comfortable and secure knowing at anytime you have access to these facilities. ( I.e. somebody in the group is tired like one of the kids or isn't feeling well or if your just ready to head back to the hotel and clean up. Instead of being stuck on a boat and at the will of the captain to make the decision to take the long ride in you can head up the beach with yourself and depart expeditiously.
Cook Your Catch!
Cook Your catch options are available at request provided by local seafood restaurants. Located in Port Canaveral, Melbourne, and Orlando. Enjoy the atmosphere over your hard earned fresh catch and taste the delicious delicacies of what a true Florida experience has to offer. This is the time to sit around with the family and friends after cleaning up and cooling off. Join a generational Florida family tradition reflecting on an amazing day over an ice cold beverage and fresh seafood. It's an authentic way to top off the day in exquisite fashion. LEARN MORE
We also offer rental packages!
All surf fishing equipment rentals include 1/hr comprehensive how-to surf fishing lessons including, drop off and pick up.
View Pricing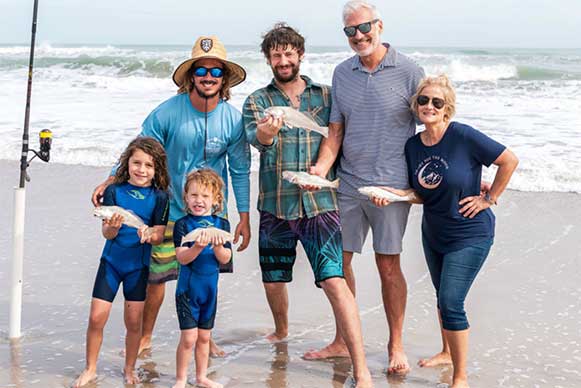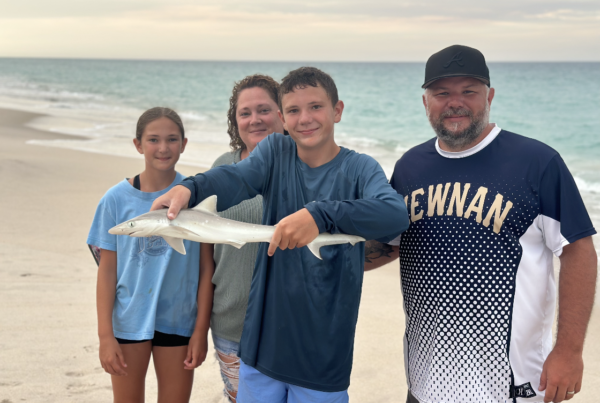 Big fish mayhem for the months of July and August. The highly anticipated summer snook fishery from the beach hasn't disappointed. Giant snook continue to be caught with various rigs…
Warning
: Trying to access array offset on value of type bool in
/var/www/wp-content/plugins/salient-core/includes/vc_templates/full_width_section.php
on line
50
"Top Notch Charter - Great Experience! I've fished all over the country with different charters and have to say that Lucas was the most willing to share information and will teach you as much as you'd like to know. Very knowledgeable. I'm an avid fisherman and was looking to learn about surf fishing and he did a great job of sharing anything he could to get me started. I could also see how he'd do a great job teaching newcomers the basics and would be equally as good at hanging out with a family looking to enjoy some time on the beach and reeling in a few fish for supper in the process! We were around several other groups of fishermen on my trip and we out fished them by far!"
"Great Surf Fishing Experience! We had a mix of first timers and experienced fishers. Everyone had a great time fishing on Paradise Beach, FL from 9am-1pm. Captain Lukas was extremely patient and knowledgeable about surf fishing. He not only providing all of the equipment, but also taught us many tricks and secrets he has learned along the way. We caught several fish that Lukas ended up cleaning and filleting for us (thankfully because it would have taken us much longer to do). There is no doubt that we would all love to go fishing with Lukas again."
"First Surf Fishing Experience The Best! My husband and I have recently retired to Florida. We had lots of experience fishing on the North Coast, but knew we had a lot to learn about Florida fishing. We met Lukas at a surf fishing seminar he gave at Sebastian Inlet State Park. We booked a Surf Fishing Charter and learned to Surf Fish in one morning. He was the best teacher ever...very knowledgeable, patient and helpful. He provided everything we needed for a successful fishing trip including comforts like chairs and water. He shared all the tricks of the trade. We caught several fish, which Lukas cleaned for us and we enjoyed them for dinner tonight. Best trip ever!"
"Fabulous Experience. A memorable morning with Captain Lukas! Not only is he knowledgeable, friendly and professional, but helpful with a personal touch. The highlight of my trip was spending the morning surf fishing with family and friends enjoying the natural elements of the beach setting. Dolphins, birds, and plenty of fish accompanied by a clear blue sky made this a five star experience!! I highly recommend you share this adventure with family and friends of all ages. You won't be disappointed!!"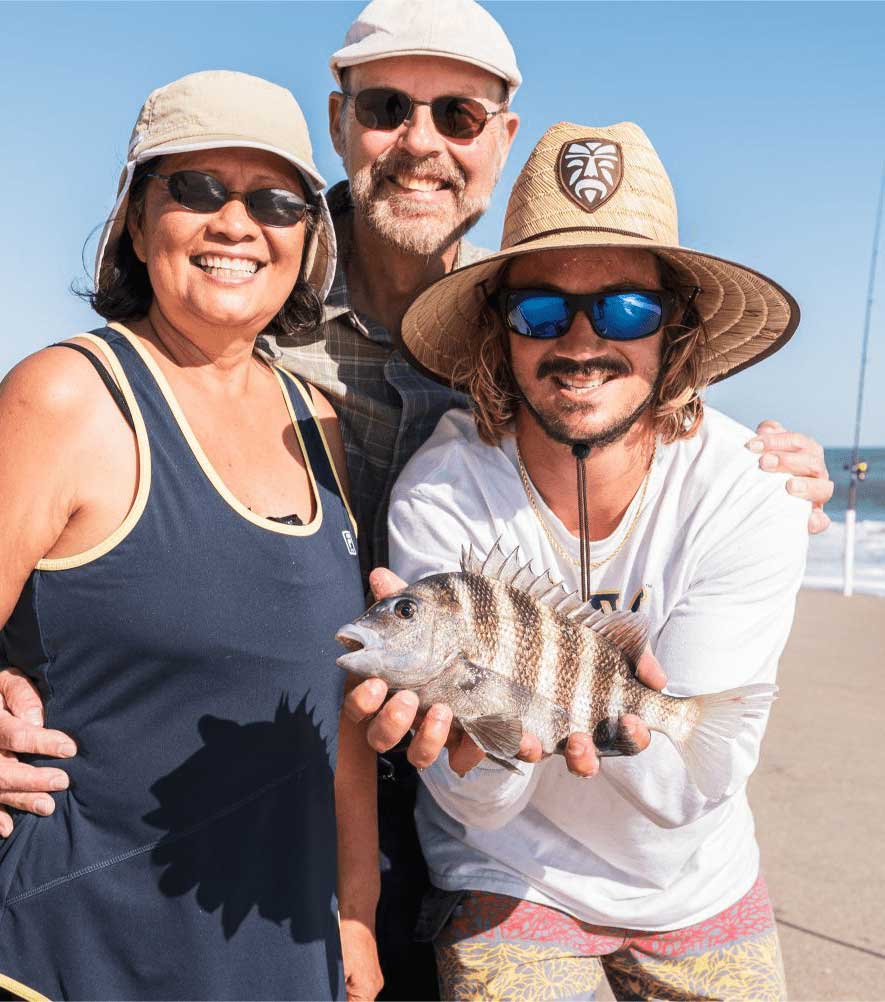 Instagram
Follow us on Instagram and don't forget to tag us in your photos! @captain_lukas
Follow Us
TripAdvisor
Read the latest TripAdvisor reviews from our clients! Or leave a new review about your experience.
Read Now