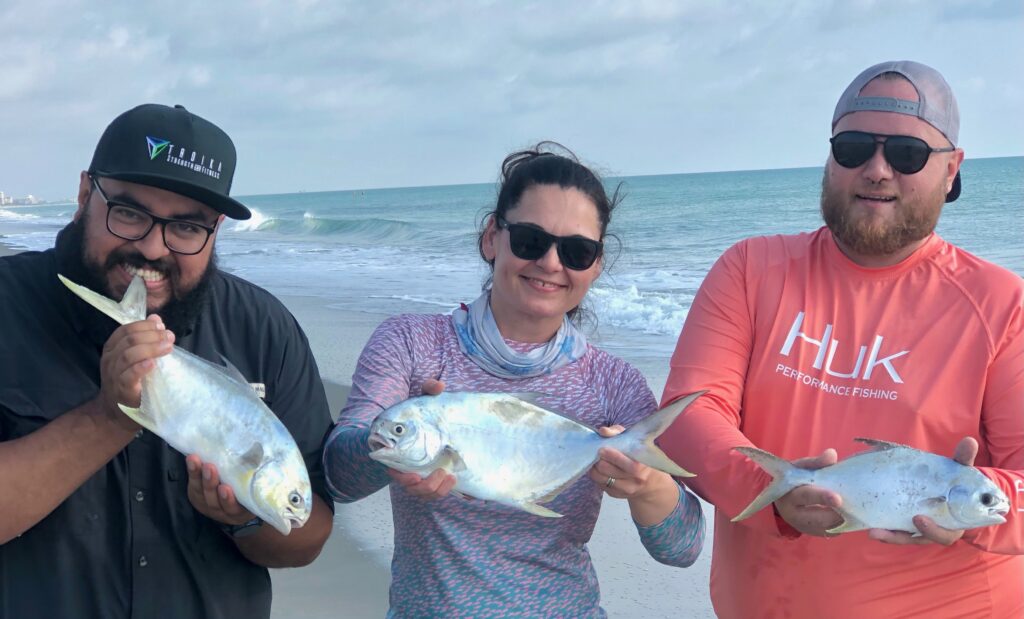 Surf fishing the Space Coast continued its blitz of fish and shark species throughout the region. Fishing near Cocoa Beach south to Satellite Beach found beach fishing anglers reeling in pompano, whiting, bluefish and snook. Meanwhile, the central region consisting of Satellite Beach south to Melbourne Beach found similar results with an increased number of snook, flounder and margate near the rocky shorelines.
Wrapping up the southern region south of Melbourne Beach, including Sebastian Inlet to Vero Beach, held consistency on the red hot whiting bite, big pompano and heaps of Blacktip sharks. Our surf fishing charters stayed dialed in on these movements of fish, shark and bait movement that provided a plethora of catches that excited clients daily.
Action packed shoreline fishing held anglers captive as the bluefish and whiting bite continued to keep rods bent and fish hitting the sandy shores. Double digit bluefish catches were a common theme through the week when fishing with cut bait. Ferocious predatory bluefish swarmed any and all catches with many whiting coming in handicapped and tailless. Considering the toothy profile of the bluefish, it's recommended if specifically targeting them to beef up your leader size with 40lb plus leader to hedge your bets on lost fish, rigs and weights from chaffing.
With many shore-based fishermen targeting the elusive pompano, it was a common theme of many losing sight of the whiting lapping up crustaceans on the shore break. Short cast from 10-25 yards out reigned supreme with pompano rigs tipped with solely Fishbites. Patterns developed with the whiting keying in on the smaller profiled bait, and in many instances, a small piece of Fishbites outfished any rig with sand flea, shrimp or clam. As mentioned in previous articles, it's of utmost importance to dial in on the scent preferences day to day. The reason I harp this chord so religiously is because of the fact that this approach alone leads to night and day catch rates.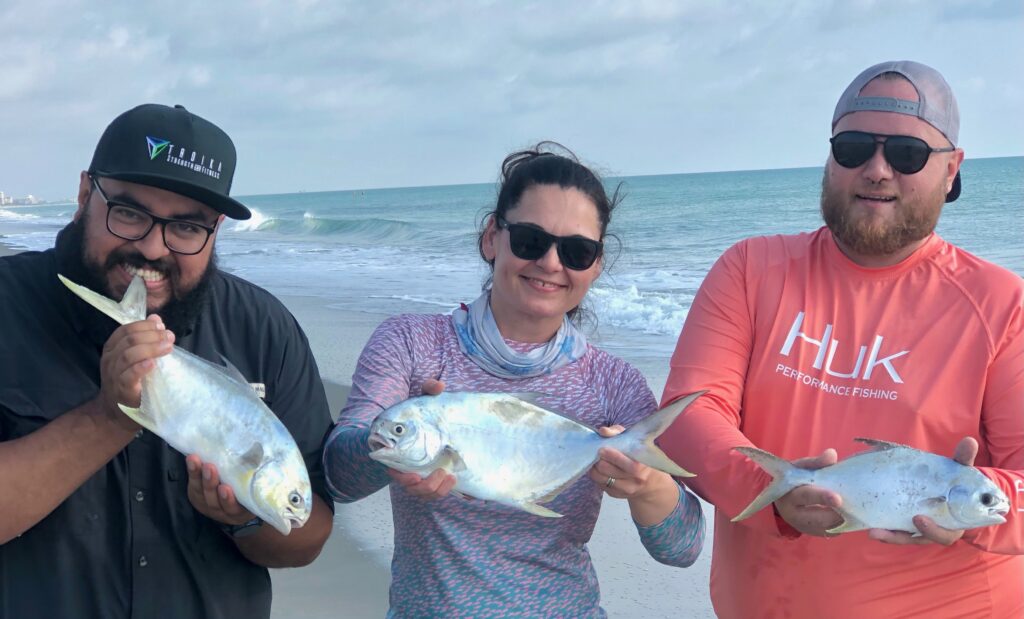 Regarding the above-mentioned whiting lingering near the shore, the pompano also found a place in that mix. More than half of daily pompano catches were on short to medium cast in the whiting target zone. Where there's food, there's generally mixed bags of fish species capitalizing on the concentration. Surf fishing charters caught giant pompano this week with clients boasting fish from 15-18 inches. These beauties were common and gratifying for all.
Lively waters tilted the scales for sharks plundering catches before they could reach the safety of shore. Shark fishing charters enjoyed the action on Blacktip sharks engulfing cut bait and smoking lines off the reel. Sandbar sharks, sharp nose and bonnetheads filled in the gaps between the tenacious blacktips that persisted over the last few weeks. Shark fishing is exciting like no other species in my opinion for the surf fishing options this time of year. I'm absolutely a sucker for pompano fishing, but when the shark fishing equipment doubles over, you know it's game on! If you're unsure of how to catch or safely and quickly release, please execute due diligence and book a trip to learn or get someone with experience to help you initially. This ensures you're well equipped to perform the task intelligently and safely.
The surf fishing forecast looks promising and exciting with snook and flounder added to the mix; it's a wide open fishery at the moment. Go forth and cast!