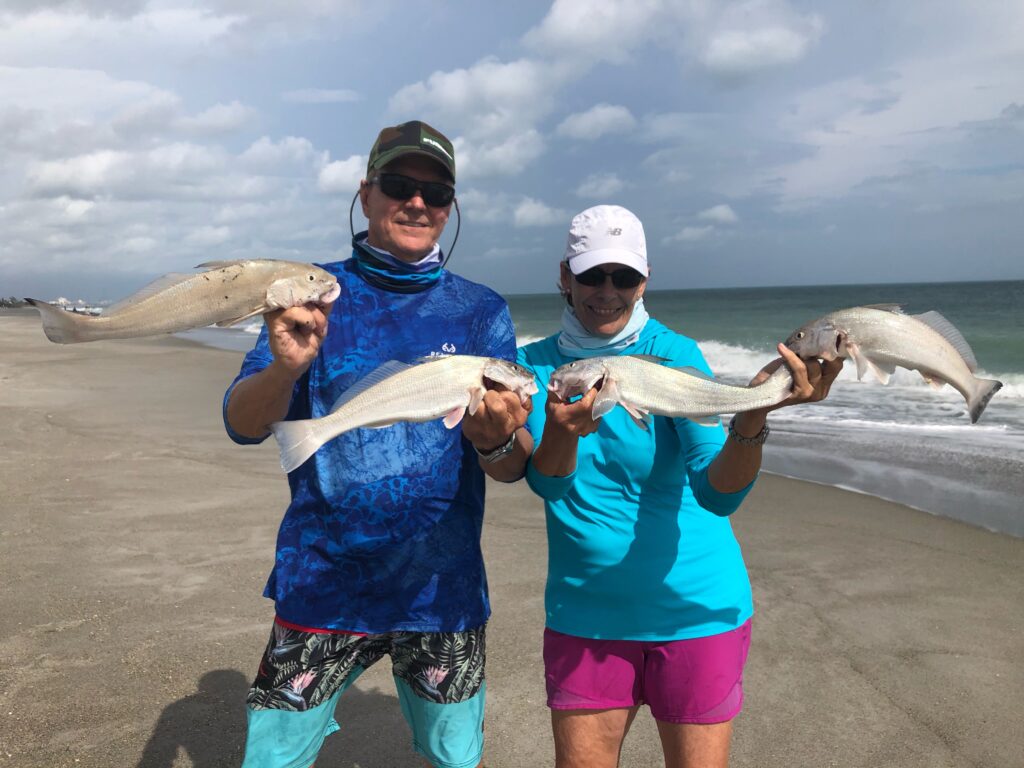 Guided surf fishing charters caught big bull whiting, pompano, drum and sharks. Last week saw an upswing in not only the number of pompanos, but the larger pompano mixed in with higher numbers than previous weeks. This can be attributed to the increase in water temps from the lows we saw weeks prior. While we still weren't catching recreational limits of pompano, the ones we did catch were averaging between 13-16" to the fork of the tail. Beautiful 2-3 lb pompanos on the sandy shores of our Space Coast had clients grinning with joy.
Surf fishing Brevard County still lacked the consistency one would prefer so it was optimal to fish multiple days to find a bountiful catch. Without a steady number of pompano hitting the shoreline, we continually counted on whiting to save the day. Thankfully that situation played out particularly well for the better part of the week. Large bull whiting over 1.5 lbs weren't uncommon and that's a welcomed sight for any surf fisherman.
Surf fishing Cocoa Beach provided good numbers of these whiting schools, while we saw single digit catches of keeper pompano as well. Target the whiting using a standard pompano rig with Pink Shrimp Flavored Fish Bites and live sand fleas or small pieces of shrimp. Generally these whiting can be caught closer to shore, but this week seemed to have them further out in the surf with longer casts producing better results. When fishing multiple rods, I have been dedicating more numerous casts to the outside zones while dropping one or two rods short to medium for a wide pattern, then dialing in as the bite dictates.
Surf Fishing for Sharks
Shark fishing has been phenomenal off the beach the last couple weeks and that pattern continued to hold true this week. Pictured in this report is Hugh from Ohio who booked a guided shark fishing trip and won the thrill of what it's like to battle an acrobatic black tip on spinning tackle. This shark put on an absolute show jumping multiple times and screaming drag up and down the beach. As mentioned in previous reports, be sure to beef up the surf fishing equipment for these heavyweight contenders. Heavy braided line in the 80 lb class with a 200-300 lb monofilament shock leader with a foot of wire trace will do the trick. Fresh cut bait has been the ticket with the added scent and hands down outfished the frozen baits.
Surf Fishing Forecast for the Space Coast
The week ahead looks like good conditions forecasted up until the weekend with a blow coming. Get out in front of the weather and storms this coming week to have an opportunity for success. There's plenty of large whiting, roaming pompano and black drum to seek out. Not to mention the sand fleas have been plentiful at area beaches around the lower tide. There's two large schools of black drum roaming off the coast between Patrick Air Force Base and Melbourne Beach. I spotted these fish three days ago milling around the Indian Harbour Beach area. The schooling black drum ranged between 20-60 lbs! Be sure to loosen your drag up when placing fishing poles in the rod holders. These fish won't be stopped without a handful of screaming runs, and if the drag isn't set properly you won't stand a chance. Hit the beach and have fun!