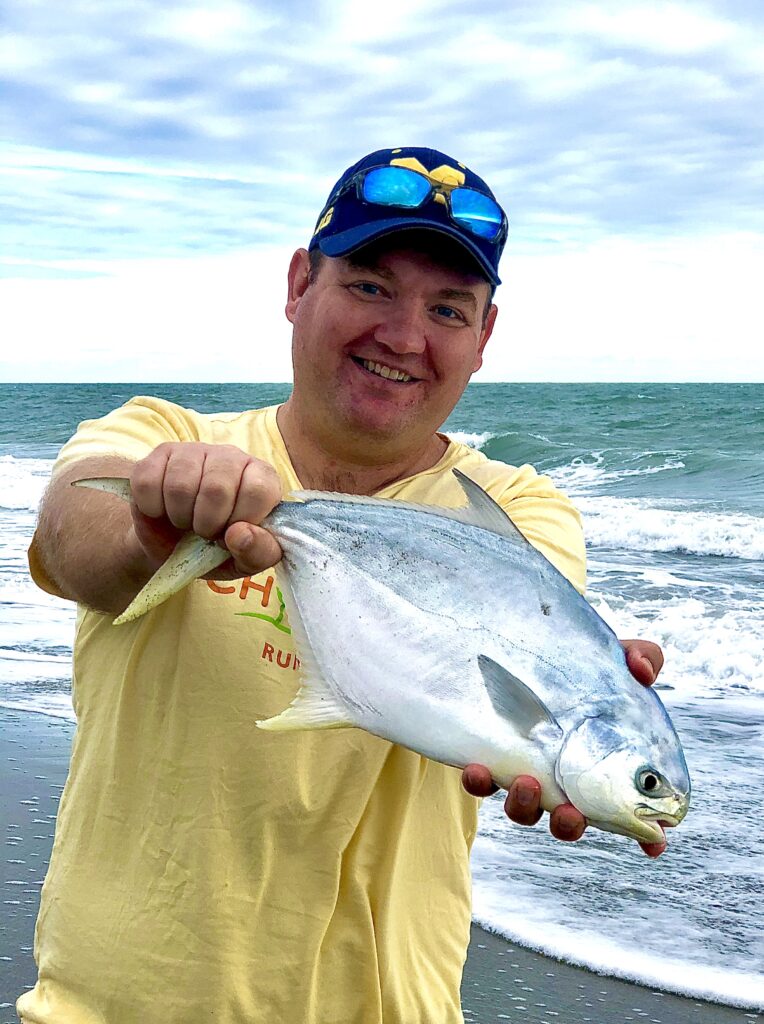 Shark fishing Florida beaches were on fire last week! Bait and predatory fish galore drove a consistent bite for shark fishing Florida's Atlantic waters. Reports from New Smyrna to Vero Beach found similar results to our Space Coast region. The weather finally cooperated relieving the many days of waves and wind. With that being said, it opened the possibility to cast shark fishing rigs from shore. Shark fishing rigs and bait consisted of large circle hooks in the 10/0 range accompanied by cable leader and cut bait. Blacktip shark and Sandbar shark were the most frequent during the week.
Cleaner water moved in later in the week providing an inconsistent bite for pompano. Pompano fishing has yet to set beaches on fire with the fever that comes with the seasonal run. Though the hardworking surf fishermen who enjoy the pursuit are still finding fish, picking through catfish, bluefish, ladyfish and whiting alike will have your hands busy for the duration of your day. With the majority of the pompano being caught reaching just below the legal limit, be sure to measure carefully to the fork of the tail for an accurate assessment of the legal size. In between the multiple species and short pompano, you'll find a few stud fish pushing 15- to 17 inches, which is quite a thrill. Pompano rigs with shrimp, sand flea and clam Fishbites tipped with bait have been producing well.
Tarpon fishing the surf has also been a highlight of the week. Shark fishing charters have jumped multiple tarpon over 100lb casting live and cut bait from the shore. Unfortunately every tarpon that was hooked successfully unhooked itself during their acrobatic performances. Just goes to show you that any catch is a realistic possibility from our rich fishery. Surf fishing equipment targeting shark fishing from shore or tarpon should be adequately noted. Surf fishing rods from 11-13 feet with 6,000-10,000 series reels and heavier braided lines will lead to success. There's no stopping some of these species when coming in undergunned and overpowered. So prepare specific rod and reel combinations dedicated to tackling these larger species.
Once again with the last string of complimentary conditions embarks a new week of unruly weather. The near term and extended forecast looks grim for our region and surf fishing local beaches. Take this opportunity to tie up new rigs for the next window of opportunities. Spool new lines on the surf fishing reels and prepare for the weather, fish and conditions to return. This won't be a week you'll find me out there, and that's saying something!
If you're interested in learning more about surf fishing and the upcoming pompano run, come out to Boaters Exchange in Rockledge this Saturday at 12 pm. The topic of discussion is titled "Pompano Fever" and will take place during the Be Lagoon Loyal Event where there will be several other keynote speakers throughout the day, including Blair Wiggins at 11am. Look forward to seeing you there!