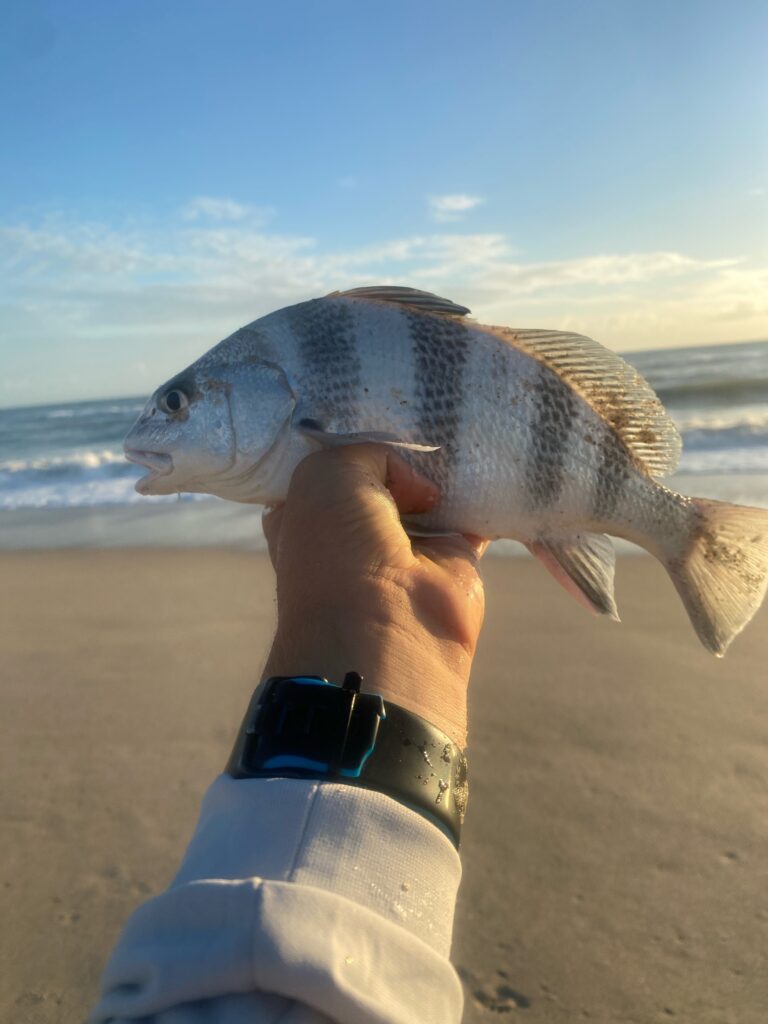 Surf fishing Florida's Central East Coast can be a tumultuous time for  unpredictable periods of time. Situated on the states coastline in a  particularly exposed region delivers a wide array of conditions. Bigger surf  and heavy currents comparative to north and south Florida leads to  windows of grand fishing or complete bust. Last week was a prime  example of what we have to understand as surf fisherman in this area.  High wind and big swells demolished the wide open fishery that was  enjoyed the week prior. Extensive mats of seaweed blanketed the beaches  causing water clarity to turn to chocolate milk. This state of affairs either  shut it down or left the brave to deal with high numbers of catfish,  frustrating moments of debris on the line, and a what-am-I doing-out-here  head space. Opportunities weren't many to be had, but the determined  anglers could still produce a catch.
Guided beach fishing trips had clients working through these difficult  conditions to find success in any form. Catfish were absolutely the number  one fish that pulled and twisted in their surf fishing rigs last week. Jack  crevalle, whiting, puppy black drum and pompano were also highlighting  the days catch. Large schools of ladyfish and spanish mackerel that  roamed just days before all but vanished under the unruly conditions. Surf  fishing equipment needed for the heavy waves and rips were 11-13ft rods,  Sputnik leads and plenty of Fishbites, not to mention patience and  determination. By no means was it a week to set aside for this sport.
The Roy's Surf Fishing Challenge had the best of the best in the surf  fishing game compete on Saturday. The conditions going in were  understood to be very difficult. Surf fishing anglers dispersed along the  east coast seaboard from Jacksonville to Sebastian Inlet. When the dust  settled, only a few pompano amongst the competitors were weighed in.  Fortunately we took home the number one prize in largest pompano  overall and junior angler. The win came on a custom pompano fishing rig  with Fishbites shrimp flavor and a live sand flea, caught in Brevard County.
This congregation of talented fisherman who struggled through the day is  a testament to the difficult conditions during the competition. With this  weeks forecast subsiding to more optimal surf fishing conditions, I  encourage everyone to hit the beach and find the fish.There's no telling when the next round of wind and waves could collide with our coastline  and deteriorate the opportunity. Get out and get tight!