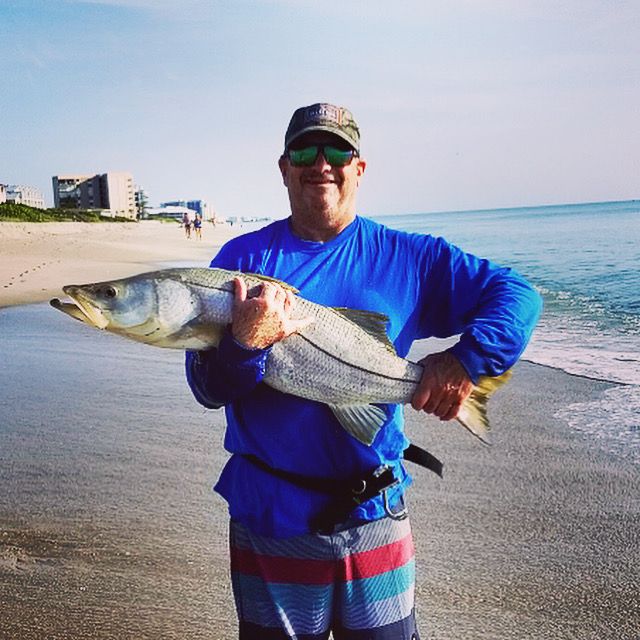 First and foremost it looks like the dreaded seaweed masses have arrived on local beaches. Fishing the beach in areas from Cocoa Beach, Satellite Beach, Melbourne Beach and Sebastian Inlet are being affected. Based on the offshore waters and reports from recreational boat fisherman, there's a whole lot more on the way. Don't be too discourage by this daunting task though. Below we'll give you some tips and ideas to make the best of what the current surf fishing conditions hold.

Beach Pompano Fishing In the Summer
As mentioned in previous reports and forecasts, there are residential pompano that stay in local waters year round. These pompano can be targeted year round, including summertime on Florida's Space Coast. The key to finding these fish will be water clarity and depth changes. Use the calm days when the ocean has clarity to identify areas where there's troughs and runouts. In addition, target these areas with pompano rigs, Fishbites and fresh bait. Shrimp, sandfleas and clam are ideal options when tipping your pompano rig.

Surf Fishing Conditions: Seaweed
The seaweed that was forecasted to arrive has finally made a big push. Meaning surf fishing conditions look to be extremely difficult for the foreseeable future. South of Sebastian Inlet will have opportunities at times when you really want to get a line wet. The seaweed conditions won't be for the faint of heart. Despite that, relentless effort, cleaning lines and re-rigging will be what's in store for those willing.
Snook fishing is another option that heats up in the summer months. Surf fishing in Brevard county has world class snook fishing from June through September. Albeit the challenges presented by the seaweed will be enough to deter most. High tide generally holds better opportunities for a break in the seaweed and snook fishing the first trough. Live bait including mullet, croakers, and pinfish fished with or without a weight are extremely productive.
Shark Fishing Space Coast
Depending on the presence of bait and predatory fish, one can expect the shark fishing to be outstanding these next couple months. Early mornings and evening time when the temperatures cool will have a large effect. Chunked bait and live bait make for a recipe for success. Use shark casting rigs with the ability to target the second trough and beyond. Furthermore don't be surprised if your snook rod gets a bite from sharks patrolling the first trough.