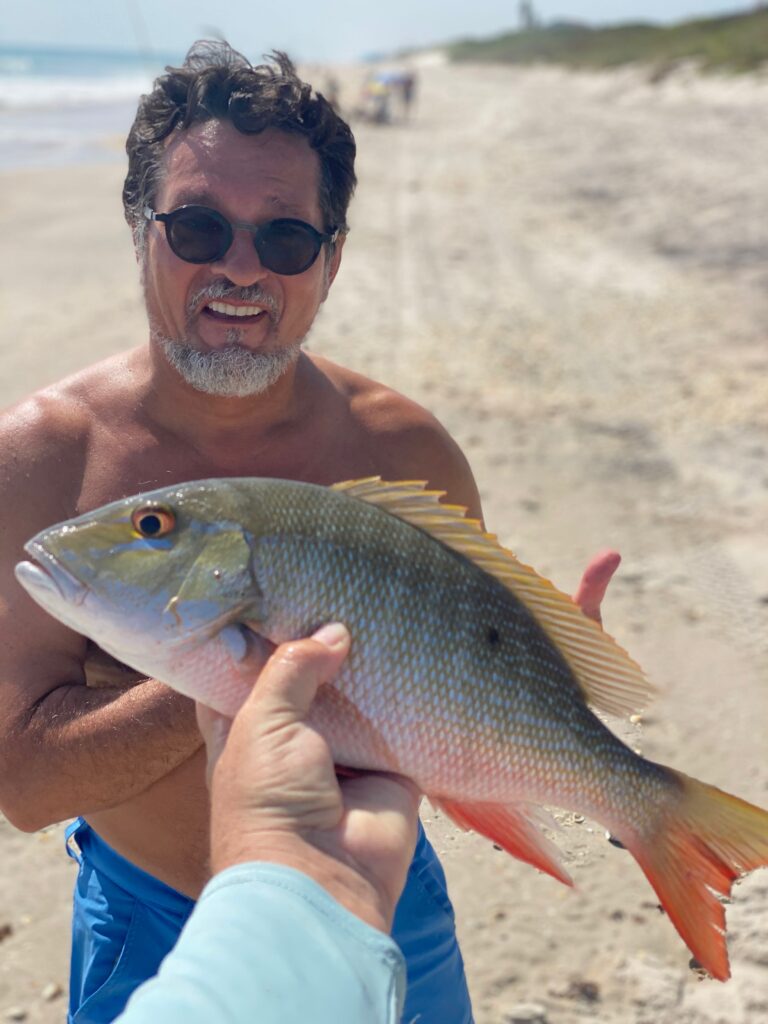 Surf fishing rigs like pompano rigs or knocker rigs have been on fire this last week. Fishing from the beach with these rigs has delivered a wide variety of species leaving fisherman to ponder what could be next. This event is a direct result of the fall mullet run appearing right on time. Predatory species such as snook, tarpon, jack crevalle and sharks can be caught fishing the tightly packed bait pods moving along the beaches from Port Canaveral to north of Sebastian Inlet.
Surf Fishing Tips
Targeting the above-mentioned gamefish can be accomplished with live bait worked on a jig head, knocker rig, fish finder rig or free lined. Catching mullet with a 5-7 foot cast right from the shore of the beach makes it possible for even a novice angler especially during the Fall mullet run. Bring a bait bucket with aeration to keep your live bait alive and well. Live bait fishing from the beach can be an extremely rewarding tactic. Jumping tarpon from the shore never disappoints. The distinct thump of a snook inhaling the restricted bait will send your heart rate through the roof. These exciting surf fishing opportunities are here today, and I strongly recommend preparing with the proper tools for the specific species on hand. If you're curious about surf fishing equipment or surf fishing setups, please give us a call for recommendations, or visit your local tackle shop for professional advice.
Pompano fishing still has provided the table fare for the patient and motivated anglers willing to find the best conditions. Sand fleas have been plentiful still with more positive results on a higher tide. Along with the pompano, fishing charters this last week were reeling in blue fish, ladyfish, Spanish mackerel, whiting and even a mutton snapper. Yes, you heard that correct. Although it's more of a seldom catch fishing the shore, it definitely wasn't the first time it's occurred.
Understanding Surf Fishing Conditions
The immense presence of baitfish, including glass minnows, pogies and mullet has predator fish from all depths getting in on the action. Finding the right rip currents, eddies and troughs between sandbars will define your success. Understand what the fish like in a certain area or condition and attempt to repeat the positive results by mimicking that approach. The sand along our Space Coast beaches is in constant influx, so do the proper reconnaissance to find the hidden gems at a location perhaps outside of your normal hunting ground!