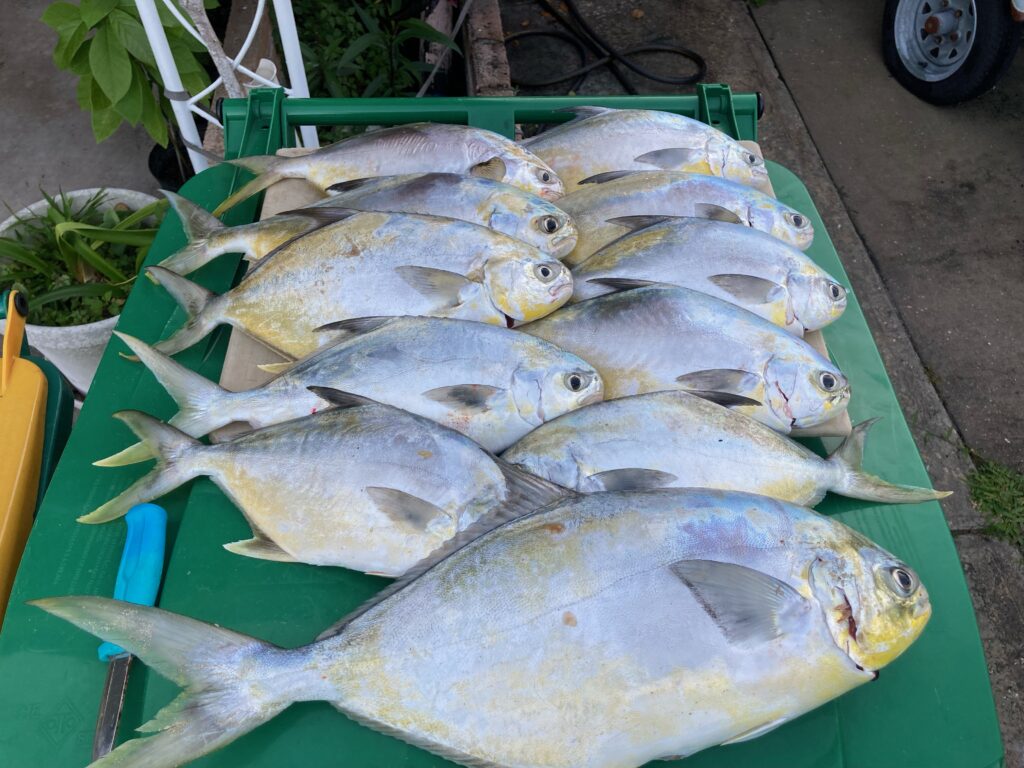 Shore fishing charters didn't disappoint while surf fishing the Space Coast last week. Pompano, whiting, bluefish, Jack crevalle and croakers galore kept the lines tight. The red slime that has infiltrated the coastline is much of a nuisance, as one could imagine, making it difficult at times to effectively fish a diversified setup of beach fishing equipment.
Pompano fishing continues the spring run with catches coming in bunches of paired fish. Needless to say, most pompano were caught roaming the outer edges of the surf zone with the water color change. The outer surf zone on the sandbar or beyond also has less slime and seaweed. The size of the pompano caught diminished from the giants weeks prior, but still are healthily in the keeper range.
On certain days it seemed impossible to keep a line in the water long enough to catch the desired pompano or whiting. The croakers flooded every section of the water and could be caught two or three at once. It's fun to catch something, but at times it absolutely becomes an annoying nuisance reeling them in and having to re-bait. The croakers also roamed in cohorts with bonnethead sharks and seemed to move in and then off the bite, relieving the flurries. Those were the times when the targeted species had an opportunity to find one's bait.
Preferred baits for the prior weeks consisted of peeled shrimp, sand fleas and Fishbites. Although we're still lacking the clusters of sand fleas our area is prone to, there are a few around. The mid-tide coming off high tide has worked best for finding live sand fleas. With that being said, our fishing charters are finding plenty of production with fresh shrimp and fishbites rigged solo by a pompano rig.
Consistent with the season, shark fishing charters brought smiles all around last week. Blacktip sharks and lemon sharks made up the majority of catches. Fresh chunked bait deployed in the first and second trough made short work of the incredibly resilient sharks. Never ceasing to amaze one in the fierce battling capabilities with violent head shakes and blistering runs, these catch-and-release species truly do make for a catch of a lifetime. Be sure to get out and enjoy the surf fishing on hand as it's a lively time of year to catch!