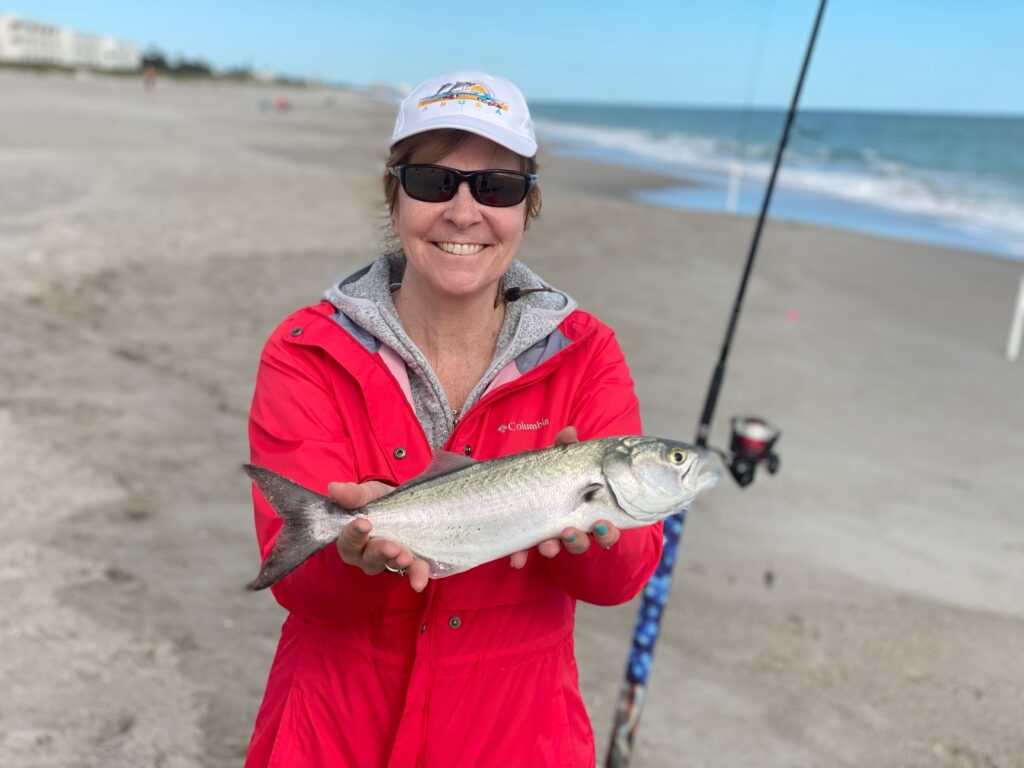 Winter weather fronts made it a roller coaster of a week for surf fishing in Central Florida. While it was difficult to maintain a consistent bite during the week, our clients were putting fish on the beach in spurts of action. Pompano, whiting, black drum and sharks rounded out the top species being caught. With the water temps cooling off, it looks like conditions should continue to offer great opportunities ahead of the passing fronts. Surf fishing near Cocoa Beach and Cape Canaveral offered up a great whiting bite along with pompano and black drum. Crab flavored Fishbites tipped with fresh peel shrimp or blanched sand fleas on a pompano rig did the trick. Most of the fish were caught on extremely long casts on a falling tide. Bluefish were also available close to shore with fresh chunked bait or casting lures.
The pompano fishing in Melbourne Beach seemed to be the most consistent throughout the Space Coast region. Small schools created a flurry of bites within the duration of our charter fishing trips. Slower periods would ensue on a typical trip while we waited for passing fish to strike. Healthy slabs were beached when the bite fired and rarely were undersize fish seen. What a way to celebrate the winter in Florida by participating in a beautiful day fishing the beach.
Tablefare species like pompano and whiting were surely the target fish, but currently, there are opportunities for catching large black drum in our region. These fish frequent Brevard County water during the winter months and are sure to provide a fight of a lifetime. Black drums ranging upwards of 40 and 50 pounds are common during these migrational periods. Be sure to keep a keen eye out for dark-colored waters that could signify one of these schools. Cast anything from peeled shrimp, sand fleas or Fishbites to entice a bite from a massive black drum or cast buck tails and small jerk baits as well.
Cocoa Beach Surf Fishing Charters shark fishing trips haven't lost any steam with a steady flow of black tip sharks, lemon sharks and Atlantic sharp noses perusing the surf. Fortunately, shark fishing in Melbourne Beach remained a top area to land these top predators included in the action with our targeted fish species. There looks to be no end in sight for this healthy fishery. As always, be sure to educate yourself on the proper techniques for clean catch and release. Include in your arsenal shark fishing rigs with less steel leader and high abrasion heavy duty mono to increase bites when the waters are particularly clean and calm. Good luck and have fun!