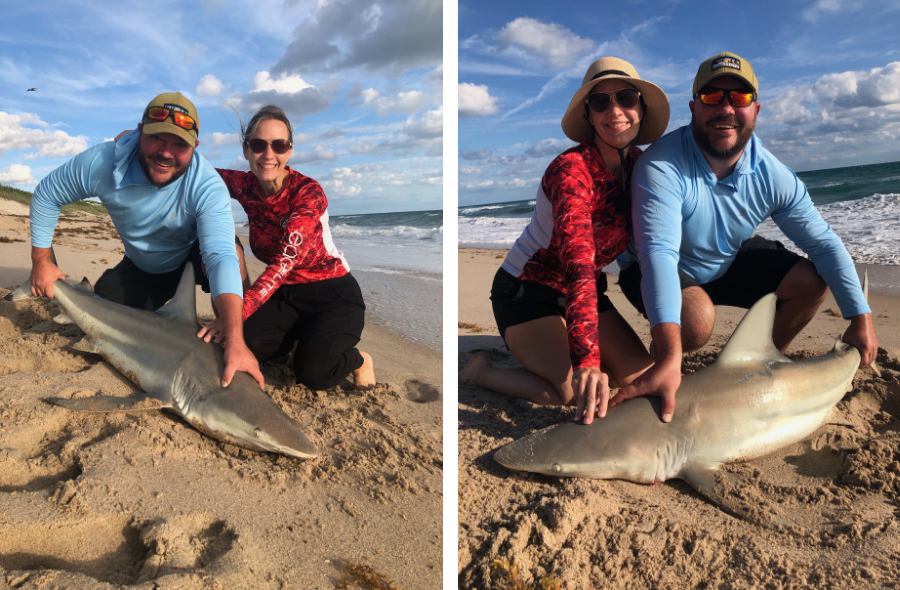 The seaweed battle continues along Space Coast beaches as the theme continues from previous weeks. Each day holds its own challenges with this major inhibitor to surf fishing effectively. While perseverance pays, it's worth noting the challenges the seaweed has reeked on local surf fishing. For those that choose to battle with this seaweed onslaught, they've been rewarded with catches of shark, bluefish, whiting, Jack crevalle and pompano, with the pompano mostly under the legal size limit.
All being considered, the shark fishing charters stood out this week over all other species catches. Numerous Blacktip sharks were caught while lemons and sandbar sharks were more sporadic. Unleashing the thrill of these powerful predators had surf fishing clients stoked to land them in good numbers. Fresh cut bait stole the show once again and it's highly recommended over the frozen baits especially in recent weeks. Your bait of choice will prove night and day results, so put in the work and get the freshest possible chunked bait.
Light tackle spinning gear continued its production with bluefish, jacks, ladyfish and blue runners for those stalking the shorelines with a spoon or swim bait. With the mullet beginning to show signs of inconsistency, having your artificial game prepared will help nullify the lack of live bait for pitching in the trough. Using this repetitive casting and retrieving method is one way to deter significant amounts of seaweed accumulating on one's line. The species listed were the most common catches with artificial and live baits but snook, flounder and tarpon still remain a possibility although that probability is lower than weeks past.
Pompano fishing looks to pick up as spontaneous catches of late should find more consistency with a drop in the water temperatures. Currently, the water clarity has improved and now it's just a fingers-crossed situation that the seaweed situation will improve. Expect better numbers of whiting and smaller drums with this coinciding cold front approaching. Pompano rigs with fresh shrimp have fared better of late, so my recommendation would be to have sand fleas, shrimp and Fishbites on hand for the above-mentioned species.