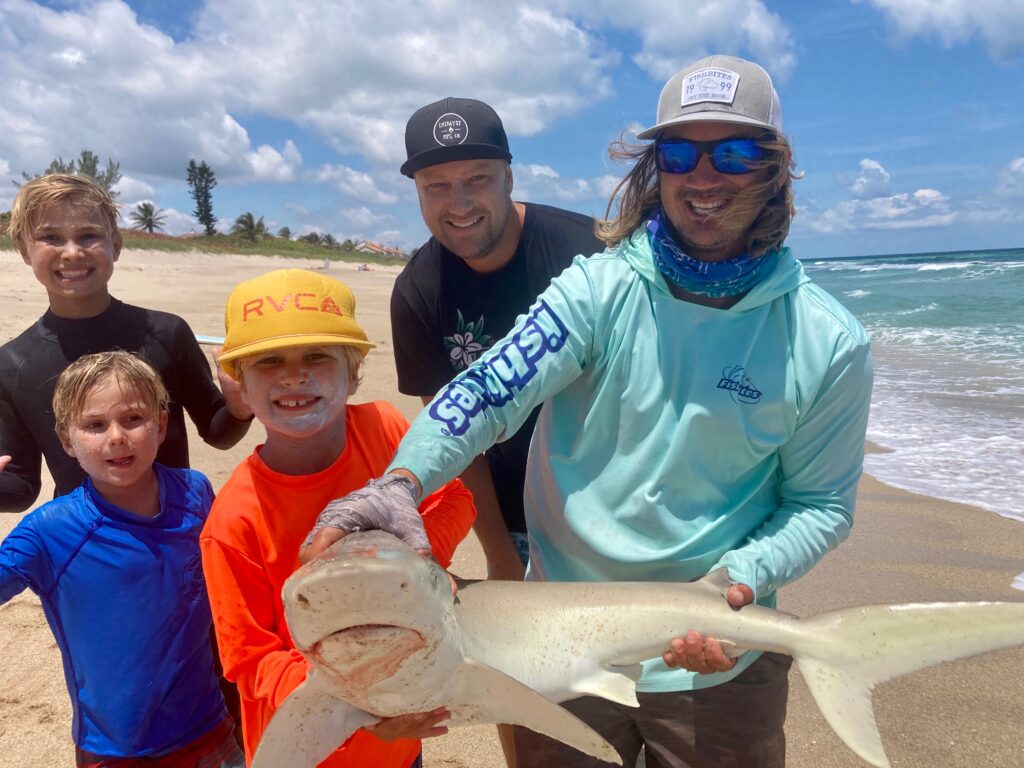 Surf fishing delivered mixed results last week as the seaweed and dirty water made its presence known. By midweek it became a cat and mouse game where to find fishable waters. When the opportunities presented themselves, fishing wasn't too great or too poor but more middle-of-the-road surf fishing in my opinion. Shark Fishing trips haven't wavered in terms of delivering big catches on Blacktip sharks, sandbar sharks, nurse and lemon sharks. Bluefish, whiting, pompano, ladyfish, snook and flounder rounded out the main species caught here along the Space Coast.
While the shark fishing trajectory remains consistent, snook fishing stole the show with many anglers hooking up with these powerful linesiders intentionally or unintentionally. Targeting snook specifically in the surf holds a special place to those who understand what it's like to walk along the beach with a lure or live bait hooking into a big snook right at the shore edge. With that being said, multiple snook catches came in as a nice bonus on a multitude of rigs not specifically intended to target them in the surf. This is a result of warming waters, fish getting on the move, and, accompanying that, with an appetite to match.
Surf Fishing Tips
Fishing baits such as cut mullet, dead shrimp, Fishbites, and sand fleas accounted for numbers of snook caught near Cocoa Beach south into Indialantic. "Better to be lucky than good," remains one of my favorite sayings in fishing. And, boy, does that remain true with surprised anglers reeling in snook on everything from steel leader shark rigs with chunk bait down to the pompano rigs with dead shrimp or just simply Fishbites. Specifically targeting snook near shore at the first trough with a live bait freelined or minimal lead produces best results. Secondarily, I prefer the option of casting swim baits, jigs, and diving plugs with light tackle angled from the shoreline. But who am I to argue if hookups are coming sporadically on non-conventional methods. Fish a variety of live and dead bait for best results. And with the majority of snook hanging near the first or second trough, proper surf fishing equipment isn't necessarily mandatory.
Pompano fisherman stuck to tried and true methods but the bite diminished from weeks prior. Single-digit large pompanos were landed consistently through the week, but nothing about the pompano bite was worth writing home about. Bluefish, however, came in large numbers using cut bait on pompano rigs with short to medium casts from the beach. Fresh bluefish doesn't excite many surf fishing anglers, but I believe a properly bled and iced bluefish remains one of the underrated table fare for those in the know. Give it a try and I'm sure you'll be pleasantly surprised. With the unstable pompano and whiting bite, it's a great secondary option to go home with fresh fish to eat.
Spring Fishing Opportunities
This time of year delivers an amazing diversity of opportunities to catch fish at the beach. Whether you're targeting whiting in the first trough or bluefish in between the first and second trough, there's a probable chance of landing a flounder or snook. Knowing this, be sure to loosen the drag setting on reels when placing them in the holders. Without this step, you're sure to lose that trophy catch when the line tightens past breaking strength.
Family fishing trips enjoyed this seasonal catch with species galore over the past week, and it looks like this pattern will continue into this week. Be sure to get out and enjoy the spring fishing and weather before the onslaught of summer temps take hold. Contact us today book a Space Coast surf fishing trip!