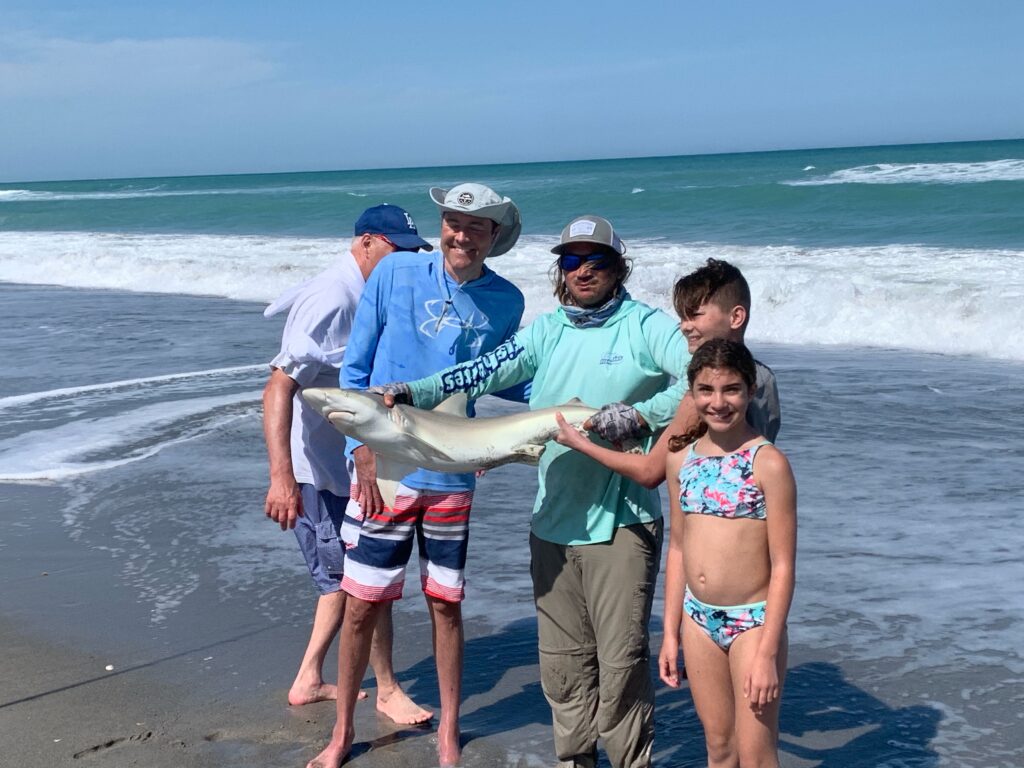 Surf fishing continues to excite beachgoers interested in catching pompano, sharks, whiting and bluefish galore. We're seeing similar trends in the last two weeks with the infiltration of small Spanish mackerel and bluefish by the swarms. This in turn has led to an unreal shark fishing bite that continues to be red hot. Shore-based shark fishing trips produced consistent action on blacktip sharks, lemon sharks, sandbar sharks and bonnetheads. Whether it's the mackerel and bluefish you're after or an epic battle with a blacktip shark, now is definitely the time to get in on the action.
While shark fishing has provided clients rod bending, drag screaming action all week, it's the pompano bite that has added an extra pep to my step. I've been mentioning each week how the water temps will eventually push higher numbers of fish to our Brevard County shorelines. Speaking of this, the transition is currently underway and our surf fishing clients saw a huge uptick in big pompano hitting the sand. As you know from my reports, pompano fishing can be a fickle beast to intertwine oneself with the ups and downs of their movements and patterns.
Pompano Surf Fishing
That's why seeing these bigger pompanos showing back up brings an extra emphasis on each rig float, cast and presentation. With that being said, the most proactive fishermen have a distinct advantage over the passive surf anglers. With tons of bait-stealing croakers and mini Jack crevalles quick to nibble off your bait, I stress emphatically to check often and routinely. The chair-riding anglers don't stand a chance next to an adversary nearby that continues to fire out fresh baits systematically and routinely. This all holds true under the current conditions with the need to pick through croakers, small whiting and bluefish to be rewarded with that slam down of a 3-plus pound pompano crushing your pompano rig. We've definitely dialed in on which patterns of float colors and color combos have been annihilating them, but I'm curious if anybody else has developed what's working best. Comment below to compare what kind of results you're seeing from different combinations.
Plan your surf fishing trip today!
In summary, this continues to be one of my favorite times of year with the abundance of life teeming off our Space Coast beaches from Cocoa Beach to Sebastian Inlet. It's like a buffet of all your favorite foods and you get to pick and choose what species you want that day! In essence, our surf fishing trips have delivered a smattering of diversity reaching double digit species catches. The prominent target species of pompano and whiting saw an uptick this week with fatty pomps and a reemergence of those stud whiting tipping the scale over 1.5 lbs. While these species provided a buzz for the guide, it was unquestionably the shark fishing trips that astounded clients daily. There's just no comparison to seeing the rod triple over in the pole spike while the drag is squealing off the reel and the vicious head shakes shutter the rod with each swinging motion. Take advantage of what's happening currently in our beach fishing arena and hit the shores in search of your thrill. Good luck and catch 'em up!