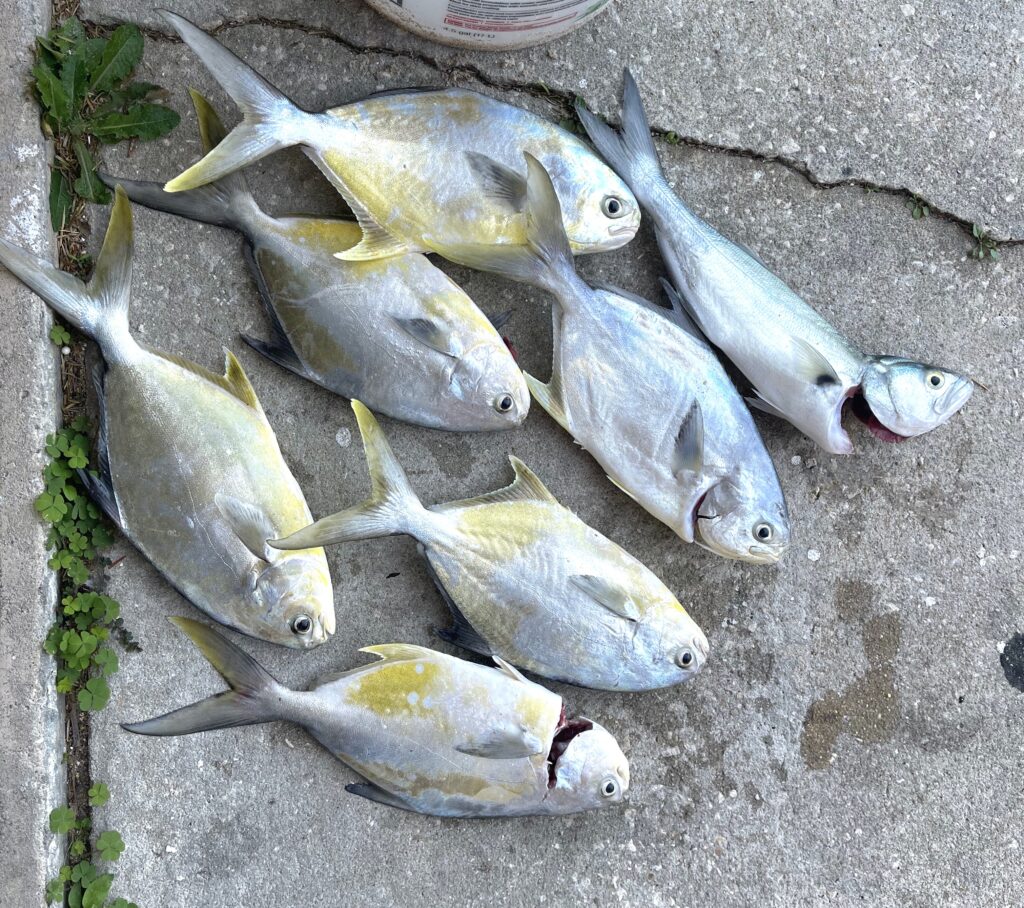 Guided beach fishing charters produced plenty of action on local beaches this past week. While the beginning of the week had pristine conditions with water clarity and calm seas, the bite didn't mimic what the appearance depicted. The bite remained slow for target species like pompano, whiting and black drum. With that being said, the immense amount of bluefish, mackerel and small jack crevalle kept surf fishing anglers busy between the more prized species.
As the week wore on the bite picked up in tune to flurries of pompano at area-specific beaches. While many reported a slow to minimal action on pompano, anglers that were willing to seek out that bite found tremendous success. Limits of pompano were had by many over the weekend on southern Brevard beaches. The majority of these catches came on the incoming tide, which triggered a fast action bite not seen by those not allocating fishing times to coincide with the tide. Flurries of whiting and pompano filled coolers on these hot bites.
Beach nourishment projects impacted the water clarity correlating with a diminished opportunity for surf fishing anglers. Surf fishing anglers did find black drum and whiting near these nourishment projects, but the prized pompano prefers contrasting conditions. Pompano are a sight-feeding fish with extremely large pupils meant to see their food in crustaceans, clams and glass minnows. If you're not keen on this criteria, you could be setting up with hopes and dreams with little to show for a day of surf fishing efforts.
Surf fishing near Cocoa Beach continues to produce small to midsize black drum, whiting, croakers and bluefish with the lonesome pompano in the mix. While the majority of our guided surf fishing charters catch pompano in larger numbers accompanied by whiting, mackerel and bluefish near Sebastian Inlet. Larger schools of pompano have been roaming south of Sebastian Inlet with sporadic days producing big catches in a random sequence making it difficult to dial in on their patterns.
Looking forward to the weeks ahead and the changes in water temps. I'm hopeful we'll get a nice run on our local Space Coast beaches. Pay special attention to the wind to clean up certain areas with southerly winds making it dirty. Currently west winds have had a similar effect with the sand nourishment projects and the combination of this sand getting blown out into the surf zone. With the current front coming later in the week, I expect water clarity to clean up with northerly winds and opportunities to be created at more locations.
Pompano rigs with live or blanched fleas tipped with the chartreuse crab flavored Fish Bites and the white clam flavor have been seeing success. If you want to diversify for bluefish, then switch to fresh cut bait like mullet or croakers. Light tackle action near the first trough throwing a spoon or gotcha plug will also keep you entertained waiting for the surf rods to take a dive. All in all, it's going to take some searching and fishing multiple tides to find real success as the fish and bite hasn't been broad and general. Do your homework, put in the time and your probability for finding those gem days will increase exponentially. Good luck and tight lines!!