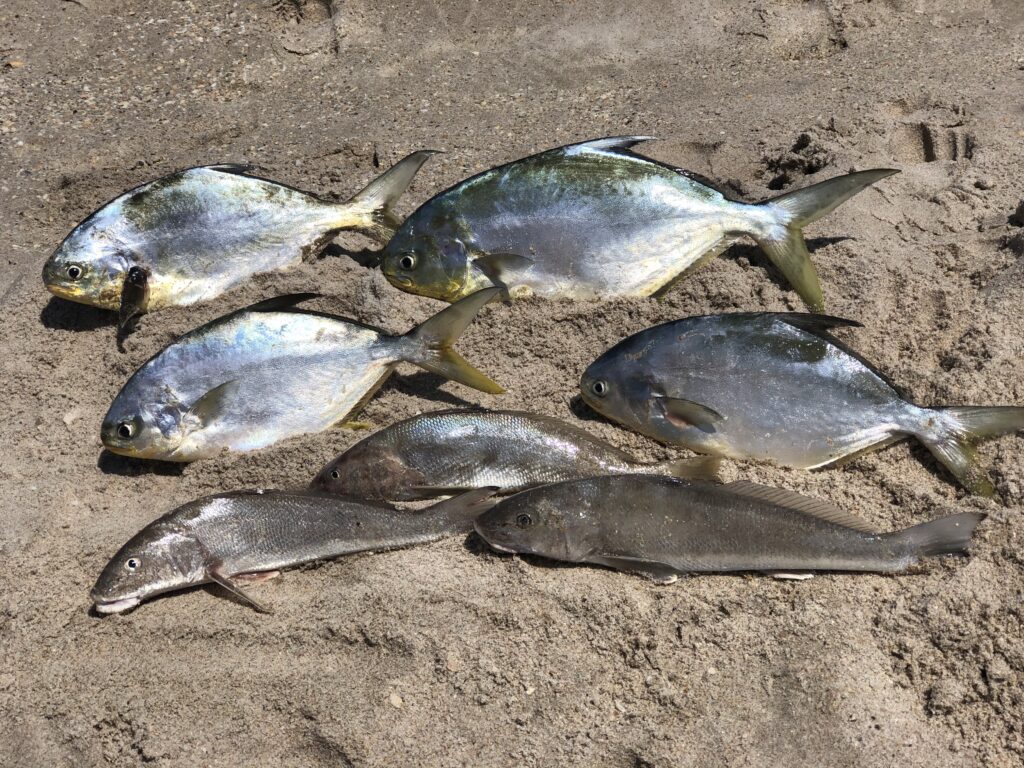 Surf fishing reports were mixed this week with the large swells and turbulent waters. Fortunately, as the swell subsided, the conditions improved tremendously for surf fishing anglers along the Space Coast from Cocoa Beach to Sebastian Inlet. With the current swell and wind setting up for another good weekend of fishing conditions, make sure to take advantage of every optimal window. Water clarity has always been a major derivative when approaching a successful beach fishing adventure. As a result of the diminishing swell last weekend, the water clarity improved accordingly. With this being said, we began to see a consistent bite near the end of the week for pompano, whiting, mackerel, sharks, and snook.
Shark fishing has been on fire with the food sources running along the beaches. This fishery doesn't have to be the most detailed to find success. Unlike other species, which feed with sight, sharks' keen sense of smell will bring their jaws to the nearest source of scent. Chunked baits of mullet, pogies, and ladyfish have resulted in consistent catches of varying size sharks. With the appropriate tackle, anglers should continue to see a high success of catches in the coming weeks.
Pompano fishing hasn't disappointed either with the residing swell and seaweed mats. Towards the latter part of the week, heaps of short pompano were caught along with legal mixes in the bunch. Doubles of short pompano weren't seldom as the school ones pushed through the surf zone collectively. Surf fishing anglers prepared to weed through the smaller fish will be rewarded with time and patience. Surf fishing charters near Cocoa Beach saw a strong run multiple days in a row. Bigger pompano seemed to run solo or in pairs and were being caught between the shorts.
Surf Fishing for Whiting
Fishing for whiting shouldn't be downplayed for the obvious size and strength qualities. These delicious, crustacean-eating bottom feeders are hitting the beach consistently and with size to match. Whiting ranging from 17-20 inches have been steadily biting from south Cocoa Beach to the north end of Sebastian Inlet. As for the bait choices, Fish Bites shrimp and sand flea flavor bare or tipped has been key to steady catches. Don't be surprised if you end up with half a whiting on the way in! The sharks are prevalent and ravenous during this time period.
Surf Fishing Cocoa Beach
Lastly, big game anglers looking for snook or tarpon along with the occasional bycatch of sharks have been having great luck the last couple weeks. Tarpon fishing from the shore is a seasonal event that only occurs during heights of numerous baitfish runs. Free lining a larger mullet or croaker out will be a successful tactic to jump a silver king. Hook the baitfish in the back dorsal or anal fin so it can make way from shore and continue to cover water to the east.
Find diving birds and bait fish blowing up and start there. This same tactic is also highly effective for snook fishing with the similarity of the bait push along the coast. Once this weather subsides, it will be a prime window for fishing the beach and going after a mixed bag, big and small.